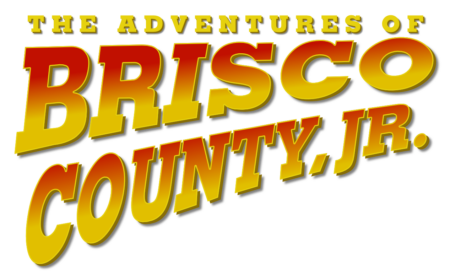 In 1993, The Adventures of Brisco County Jr. premiered on Fox. It was about a Bounty Hunter in the old west, and his mission to round up the gang of outlaws who killed his father, a famous Marshal. Brisco County is a Harvard educated lawyer who is eagerly looking to the future for the "coming thing".
As he works to capture all the outlaws responsible for his father's death, he has multiple encounters with a mysterious object only known as 'the orb'. In the first episode we learn that the orb can grant power to people who possess it. As we continue through the season, we learn more about the orb's power and origins, but its mystery isn't completely unraveled until nearly the end of the season.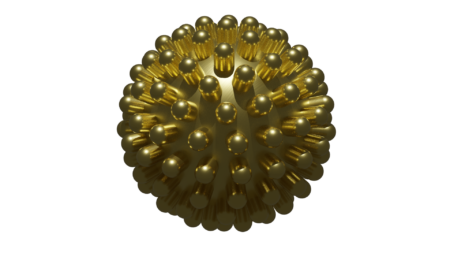 The orb is hard to describe. It's a golden, spherical object with protrusions regularly distributed across it's surface. These protrusions are the end-caps or glowing rods that can be removed from the orb. As a kid, I always thought that the orb's mystery and power was very fantastic, and I always wanted to see it in person, or to own it.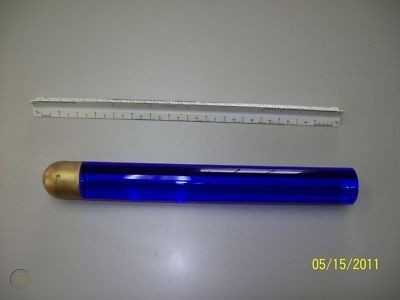 I finally decided that it was time to replicate it. Not the whole thing, just one of the orb rods. I've done a bit of research here and there over the years and have never gotten a straight answer on the exact size of the prop. I managed to find a small image of a prop replica that was built from the same mold as the original prop. Luckily, this prop happened to be photographed next to a ruler. I inferred the measurements to the best of my ability and concluded that the prop orb rod is about 1.5 inches in diameter, and about 13.25 inches long.

Brisco County Orb Rod Plans
I was able to find blue acrylic rod in 1.5 inch diameter from a supplier on eBay for a good price. I then bought some Brass stock on Amazon, also 1.5 inches in diameter.
I don't have any tooling for doing a rounded end of this diameter, so I used the lathe to create steps at 1/8 inch intervals in the brass that match the contour of a .75 inch radius sphere. I then used a file to smooth it down to a nice rounded end. A little bit of sanding, and then a clear coat of lacquer to prevent tarnishing, and the cap is finished. The reverse side was drilled out to 1 inch to accommodate the acrylic rod.
There wasn't much to do on the acrylic rod, except to machine down one end in order to insert it into the cap. Additionally, the other end was fairly rough from being cut off with a band-saw by the seller. I used progressively finer sand paper on the end, finishing with a 2000 grit wet sanding to get it to be a clear and smooth as possible.
The last step was to epoxy the cap onto the acrylic rod.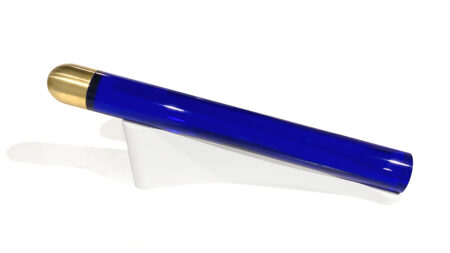 Finally, after many decades, I have the prop replica I've always dreamed about.
Sadly, Brisco County Jr. was cancelled in its first season. Despite being cancelled, I find it to be an enduring show full of the witty one-liners you'd expect from Bruce Campbell, the charm of old spaghetti westerns, and a touch of sci-fi. Luckily, the show was able to satisfyingly conclude it's storyline, so even while it was cancelled, it feels complete, and is one show that I frequently rewatch.